Official provider of online scientific news – IAS 2011
6th IAS Conference on HIV Pathogenesis, Treatment & Prevention 17-20 July 2011


Thursday 21st July 2011
Treatment is prevention – what now?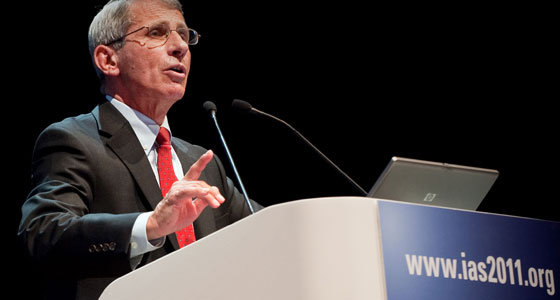 Anthony Fauci, National Institute of Allergy and Infectious Diseases at the National Institute of Health, USA. Photo©IAS/Steve Forrest/Workers' Photos
"Ending the epidemic is scientifically doable," Dr Anthony Fauci of the US National Institute of Allergy and Infectious Diseases told the conference.
Prevention has been a key focus of the Rome conference. 'Treatment as prevention' has received much of the attention, as the evidence for this concept – and a range of associated benefits – is now clear.
People concerned with HIV from every angle, whether personally affected or professionally involved, are starting to explore the full implications – practical, financial, social and legal – for developing a global prevention tool based on HIV treatment.
In two consecutive sessions the focus was on how the prevention potential of treatment could be put into practice.
Lack of resources and stigma were identified as major challenges.
Rolling out treatment as prevention will involve considerable expenditure on both drugs and human resources.
Another major barrier will be getting people to come forward for testing – particularly stigmatised or criminalised populations such as injecting drug users, sex workers and, in some countries, men who have sex with men.
Matching prevention methods to individual circumstances was also mentioned as a priority.
HIV treatment – starting soon after infection only modestly delays need for long-term therapy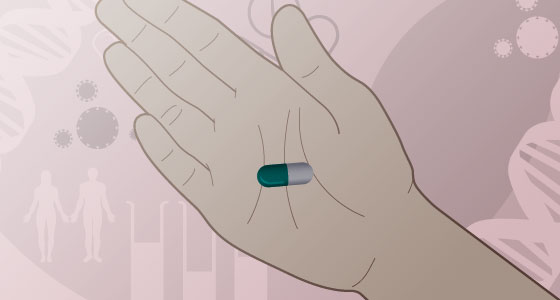 People who begin a 48-week course of HIV treatment within twelve weeks of first becoming infected with the virus slightly delay their need for life-long therapy, results of a major clinical trial show.
It had been speculated that taking HIV treatment soon after infection occurs (the period known as 'primary infection') would limit the damage caused by the virus and lead to a slower course of disease progression.
To explore this, the SPARTAC study monitored three treatment strategies during primary infection:
Start treatment within six months of infection and remain on treatment for 48 weeks.
Start treatment within six months of infection and remain on treatment for twelve weeks.
Provide the current standard of care, monitoring CD4 cell count, and start treatment according to current guidelines.
Researchers wanted to see if any of these approaches delayed the need to start HIV treatment – currently recommended to begin when the CD4 cell count falls to around 350 cells/mm3.
A total of 371 people were included in the study and they were randomised to different arms of the study within approximately twelve weeks of their infection with HIV. They all had a high CD4 cell count at this time – over 500 cells/mm3 – and their viral load was around 30,000 copies/ml.
HIV treatment consisted of lopinavir/ritonavir (Kaletra) combined with AZT/3TC (Combivir).
Study participants were monitored for an average of four years.
Results showed that people who took 48 weeks of treatment were significantly less likely to experience a fall in their CD4 cell count below 350 and need to start long-term HIV therapy.
This early course of treatment only delayed the need for life-long therapy by 65 weeks.
Taking into account the initial 48 weeks of therapy, the researchers calculated that early treatment only resulted in four months less treatment during a person's lifetime.
Taking a three-month course of treatment soon after infection had no long-term benefits.
New and experimental treatment – elvitegravir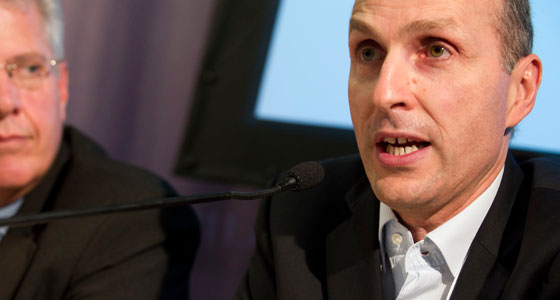 Jean-Michel Molina from Hôpital Saint Louis, Paris reported the study findings. ©IAS/Marcus Rose/Worker's Photos
The experimental integrase inhibitor elvitegravir is as effective as raltegravir (Isentress), currently the only licensed drug in this class, a study has shown.
The research involved people with extensive resistance to anti-HIV drugs. A total of 702 people were enrolled in the randomised study.
Treatment consisted of elvitegravir or raltegravir, in combination with a ritonavir-boosted protease inhibitor and another active anti-HIV drug.
After 48 weeks, equal proportions (59%) of people taking elvitegravir and raltegravir had an undetectable viral load. CD4 cell gains were also comparable.
Both drugs were equally well tolerated, and rates of side-effects were similar.
Elvitegravir is taken once a day whereas raltegravir is a twice-daily therapy.
Related links
HIV and hepatitis C – maraviroc improves fibrosis
The addition of maraviroc (Celsentri) to an antiretroviral treatment regimen was associated with an improvement in an important marker of liver fibrosis for people with both HIV and hepatitis C.
Many people with HIV also have hepatitis C (often called co-infection), and liver disease caused by hepatitis C is a major cause of illness and death for these individuals.
Treatment is available for hepatitis C, but it doesn't always work and can cause unpleasant side-effects. So there's an urgent need for new therapies and approaches to treatment.
Researchers have now found that adding maraviroc to an existing HIV treatment regimen improves liver stiffness – a good indicator of fibrosis – among co-infected patients who were not taking anti-hepatitis C drugs.
The small study monitored liver stiffness over 24 weeks in two groups of people. One group added maraviroc to their treatment, the other continued to take their existing regimen.
After six months, liver stiffness had improved in the maraviroc group but deteriorated for the other patients.
The researchers think that this could be because of maraviroc's inhibition of the CCR5 co-receptor.
It was only a small study, so its findings will need to be confirmed in other research.
Nevertheless, the researchers think that therapy with maraviroc could be useful for co-infected patients ineligible for or not responsive to standard hepatitis C therapy.
Preventing HIV – circumcision programme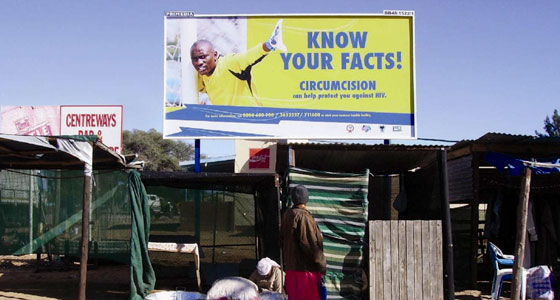 Image from the presentation of Catherine Hankins, UNAIDS.
A roll-out programme in Orange Farm, South Africa, has succeeded in increasing the proportion of circumcised men to 49%.
The Orange Farm township near Johannesburg was the site of a randomised trial that showed that circumcision reduced the risk of infection with HIV for men.
Beginning in 2008, free circumcision was subsequently offered to all men in the township.
By 2010, the proportion of men who were circumcised increased from 16 to 49%.
HIV prevalence was 6% in circumcised men, but 20% in uncircumcised men.
Circumcision did not appear to have an impact on reported HIV risk behaviour. Levels of condom use and the number of sexual partners were similar for circumcised and uncircumcised men.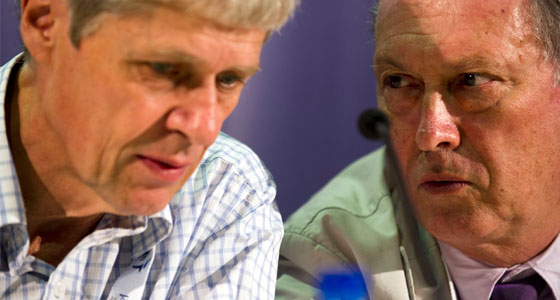 Bertran Auvert, principal investigator (left) Jean-Francois Delfraissy, director of the trial sponsor, ANRS. ©IAS/Marcus Rose/Worker's Photos
However, there has been slow scale-up of circumcision programmes in other high-prevalence countries.
Delegates were told "the roll-out of safe adult male circumcision should become a top health priority in Southern and Eastern Africa, and that a strong political commitment is needed".
Cognitive impairment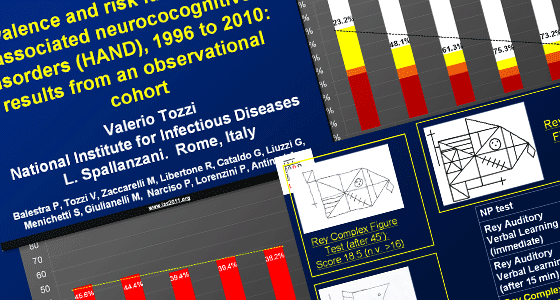 Images from presentation by Valerio Tozzi of the Italian National Institute of Infectious Disease.
Cognitive impairment is still common in people with HIV, research presented to the conference shows.
It was associated with a low CD4 cell count and not taking HIV therapy – both of which are potentially modifiable.
There's been a lot of debate about the prevalence and consequences of cognitive impairment among people with HIV. There's conflicting evidence about how common it is. Moreover, even when it is present, many doctors think the impairment is often so mild that it has no real significance.
Now Italian investigators have monitored the prevalence and risk factors for impairment over a 14-year period between 1996 and 2010.
They found that the prevalence of impairment fell from 46% in 1996 to 1998 to 38% in 2008 to 2010.
The proportion of people with symptomatic impairment fell steadily, but there was an increase in the percentage of people with very mild impairment.
Older age, a low CD4 cell count, and an AIDS diagnosis were all strongly associated with impairment. Cardiovascular disease also emerged as a potential risk.
Taking anti-HIV drugs that were good at getting into the brain did not appear to significantly reduce the risk of impairment.
The researchers think that impairment is probably due to the inflammatory effects of HIV, which could be triggered by even low levels of HIV replication.
Related links
Spanish steps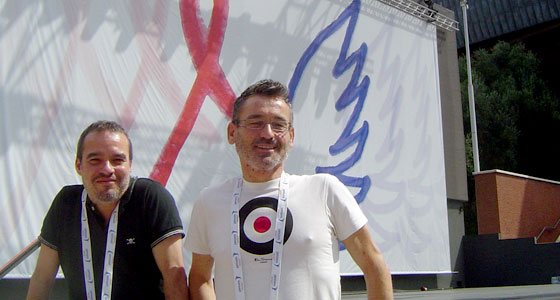 Juanse Hernándes and Xavier Franquet of Grupo de Trabajo sobre Tratamientos del VIH (gTt), Barcelona. Image by Caspar Thomson (aidsmap.com)
As the delegates begin to leave Rome, Caspar Thomson, NAM's Executive Director, explains some of the steps that go into our conference coverage and talks to our Spanish partner organisation about their impressions of the conference.
Xavi says treatment as prevention, "is very important for our self-esteem. It may help us not to consider ourselves vectors of transmission. This message has to be effectively communicated to wider society and policy makers too need to embrace this. The proof is here."
Read more in Caspar's blogpost on our website.
Related links
Clinical Care Options
Clinical Care Options is also providing official conference coverage. For capsule summaries and expert highlights, visit the Clinical Care Options website.
Related links
IAS 2011 conference coverage in partnership with: